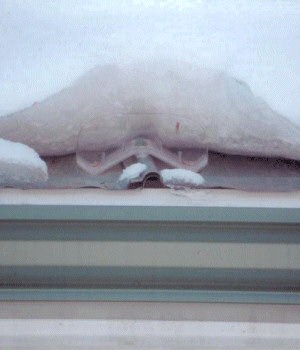 Ice breaks, or 'snow locks', protect your eaves from damage as ice and snow slide down a steel roof. More importantly, they break up the snow, as you can see from the close-up, and allow the ice to melt and drain into the trough, rather than fall over the eaves, where damage or injury can occur.
The number of ice breaks positioned on your roof depends upon the pitch of the roof, as well as the weather conditions and exposure. Typically, with any degree greater than a '9/12' pitch, you would install ice breaks on every rib (about every 8 inches). Ice breaks are made of clear, tempered plastic which withstands all weather conditions and temperatures. No matter what colour your steel roof, they are invisible from a distance.
There are other ice shield alternatives for steel roofing, but we have concluded after a number of years of testing, that this ice break design is the most economical for our customers, and successful at preventing damage. By installing ice breaks in combination with eaves and steel roofing, this allows us to extend our full guarantee on our products and workmanship.